I'm trying to make a commitment to posting once a week. My goal was to blog about a project I completed the previous week. I knew that was going to be a challenge because honestly I don't know if I can complete a project every week – but I love to try! This would be the week where I did a lot but didn't paint anything! Or create anything for myself, which is cool because it's more fulfilling to do things for others anyway.
The key to success (in my opinion) when you are a SAHM such as myself is having awesome friends around who lend a hand. Sometimes you lend the hand, sometimes they lend you one. But weekly there are opportunities to lend and receive!
So this week I focused on catching up on household chores that had been put aside during our 2 week stomach virus. And helping a friend. And I ended up being helped by a friend!
It's First Communion Season in our parts so a top priority this week was to make a veil for G, a daughter of a SAHM Miss N. No, I am not in the veil making business and No I have never made a veil. I am, a complete cheap skate and can't stand to pay ridiculous amounts of money for small pieces of tulle. (My MIL actually made my veil and I glued rhinestones on it the morning of my wedding) Since I also don't like my friends to pay for over priced tulle I decided I should try veil construction myself. Here is my pile of very expensive veil making supplies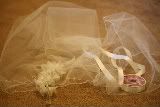 That's about $6 worth of stuff! Totally high dollar!! ;)
I don't actually own a serger so I headed to my MIL's and had her serge the seams of a rectangle of tulle, came home and folded it like this.
Then I ran a long-ish running stitch down the fold and gathered. I'm sure this is done typically with a sewing maching. I wasn't in the mood to argue with my sewing machine so I did it by hand. For some reason I can sew pretty much anything by hand!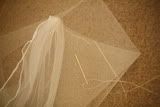 I had discussed with G's mom options for the veil – headband or comb? Flowers or plain? So I had one of G's headbands to play with. I wrapped it in ribbon and sewed and heat sealed the ends to secure it to the head band. Yes, I sewed the ends because I didn't want globs of glue that might rub behind her ears.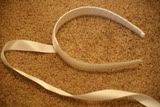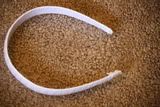 I had a brief "meeting" with G and her momma and we decided to pitch the headband, go with the comb, and add a few silk flowers. End result:
Total cost of this First Communion veil: $2 for the silk flowers my MIL already had the tulle leftover from wedding decorations). The ribbon was an additional $2 on sale. But since we didn't use the ribbon wrapped headband I don't know if we should apply that $2 to the veil cost?? Even if we did the veil would still only cost a whopping $4. The cheapest veil kit at Michaels was $9.99 and you didn't get flowers! And most First Communion Veils start at $35!!! $35 vs. $2…… I think the hour I spent was worth it! I saved my friend from spending quite a bit of cash!
What do you think?
This week on my to do list was making laundry soap - just another way I try to stick to my budget! Yes, I initially thought this was CRAZY talk. But after using 10 gallons of laundry soap that only cost me $7 for supplies (and having enough supplies for minimum of 20 additional gallons for no additional money!) I've decided that I will never BUY laundry soap again!! On my to do list this week was making more laundry soap…. This is the recipe I use that another SAHM, Miss CJP gave me.
Laundry Detergent Concentrate

INGREDIENTS:
Borax
Washing Soda
Ivory Soap (bar)
5gal bucket
1. Grate one bar of Ivory soap
2. Combine grated soap & 4c. hot tap water in a sauce pan
3. Cook over med/low heat until soap melts
4. Fill 5gal bucket ½ full (2.5gal) with hot tap water
5. Add soap mixture, 1c. Washing Soda, ½ c. Borax to bucket & stir until dissolved
6. Fill bucket with hot tap water (2.5gal) & stir
7. Cover & allow to sit overnight
NOTE: THIS IS CONCENTRATE!
• Dispense concentrate into an old detergent container until ½ full, fill remainder of container with hot tap water
• Shake and repeat before each use
• Top Loading Machines- ½ c.
• Front Loading Machines-1/3 c.
• HE Machines-1/3c.
CJP also lended me a hand by gifting me 5 gallons of laundry soap she had made from a new recipe. SWEEEEET! Not that making laundry soap is difficult AT ALL but not having to make it is a giant bonus!!! Thank you CJP for knocking an item off my to-do list!
Here's the low down on homemade laundry soap – you don't want it too sudsy for HE machines. Too many suds burns up the motor on those fancy beasts. CJP was worried that the new recipe and her month old HE machines weren't going to jive so she gifted over the yellow gel-ish mixture to me. Maybe today I should in turn mix her up some of our Original Recipe soap?!?
Final opportunity to help N popped up unexpectedly when we were reviewing veil options and hair styles for G. Last week I was completely inspired by these super cute butterfly chocolates I saw here Did you guys see them too?? Go now! Her pics are way better than my phone pics! Not to mention her butterflies look perfect-o!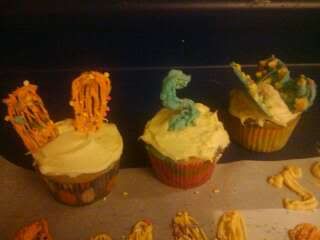 Which meant for Easter at the In-law's I had to make some!! The Butterflies were so easy and so cute that I made Bunnies and Bunny Ears! And of course a couple monograms for the kids….
After telling N about my fun with chocolate I volunteered to make some cuteness for G's birthday cupcakes because I was having way too much fun with candy melt!!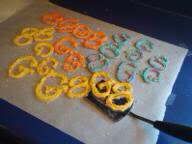 After a little thought I decided to throw in an offer no SAHM mom could possibly refuse when they are crazy busy – I would also bake the cupcakes and she could pick up "naked" cupcakes to ice and decorate! My goal was also to save her from a little work while she got her house ready for weekend guests coming to celebrate First Communion and honestly I just like to bake.
Ready for pick up!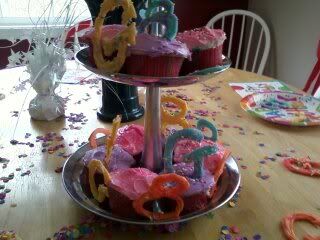 How cute did they turn out??
The weeks almost over and I don't have any helpful things to do for my friends at the moment and we're finally heading outside to play because I see SUNSHINE!! I thought we might have gotten blown west to Seattle – I swear rain and clouds have been hanging around for a month straight! I'm so sick of rain that I honestly don't care if I see any "May Flowers"!
Nice weather is also going to hopefully let me make some progress on this diamond in the rough! Check back soon to see if I get paint slapped on it!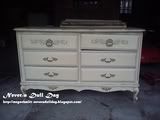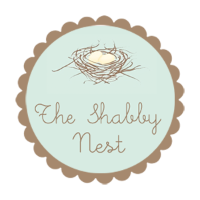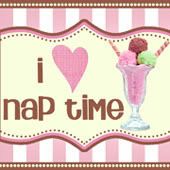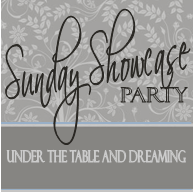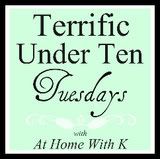 border="0" href="http://tatertotsandjello.blogspot.com/"

target="_blank">

src="http://hadfield.smugmug.com/photos/978446890_7b2ZN-O.png"

/>