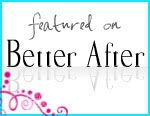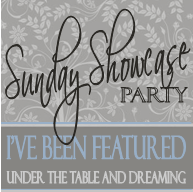 We've reached a turning point around our house, at least I'm hoping we have. It's potty training season and things haven't been going so smoothly! A bout with the stomach flu last week pretty much did us in but I'm trying to rebound this week. Part of the rebound was a little reorganizing and (My FAVORITE) furniture scooting.
Please don't judge the first picture, Baby Girl's room was a complete TuTu, doll house mess.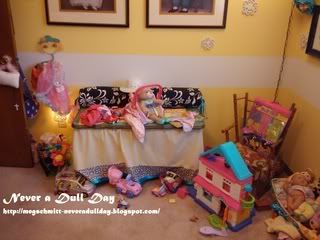 I was actually at a loss as to how to organize this mess. I went in her room with the plan of clearing out clothes for a garage sale and to possibly get rid of the diaper supplies......
So after a general clean out I had a small disaster in my room!
Then to organize.... I shuffled items a few times actually before I decided that the bottom drawer of the changing table would make a good spot for storing dress up items if it was divided.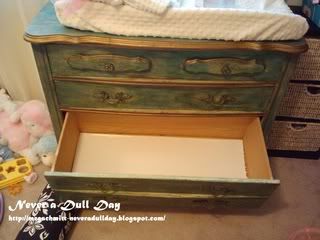 Since I had literally an hour before I had to pick up Big Brother from Kindegarten Round-up there really wasn't much time for ANYTHING! This is my temporary drawer divider solution. To either someday be reinforced, made prettier, or completely pitched for something better.
Hello cardboard..... it's been awhile. Missed ya!
So I sliced up a box and after
careful measuring
no use of real measuring tools I folded it into "U" shapes to later be secured, somehow to the drawer itself. Then sorted dress up supplies into 3 categories, shoes, tutu's and bling/ accessories. This seems to actually work really well. We will see how long it takes my dainty 2 year old destructor to dismantle it!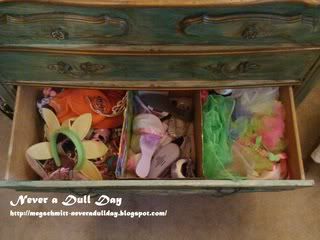 So after a little furniture shuffling and a quick vac her room is looking back to normal!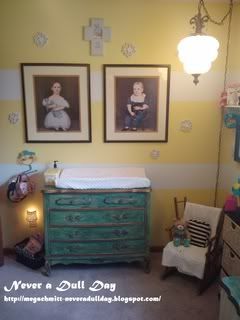 Would you like a peak at the rest of the room?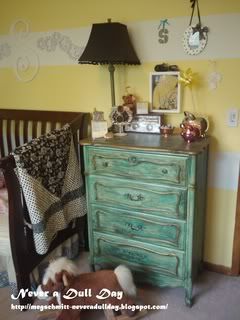 I'm still loving the furniture my mom and I painted for her while I was preggo.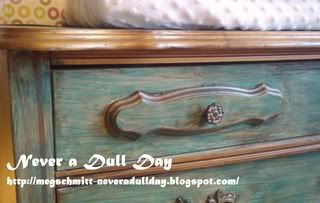 This still holds baby blankets but I've been planning on installing a hinge to prevent finger squishing when the time was right so it could be used as a toy box. I think the time is right!!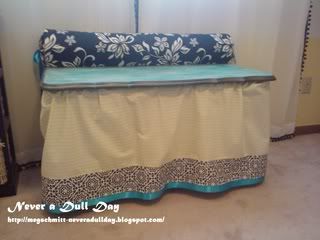 The dress Baby Girl wore to my sisters wedding just happened to match perfectly.... it's been hanging on display waiting for another fancy occasion for over a year. Hmmmmm that means it's probably too small now huh??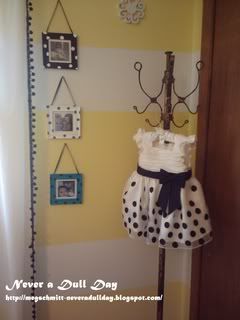 So do you like the furniture? Wondering what it looked like before?? OK.... I can show you that too!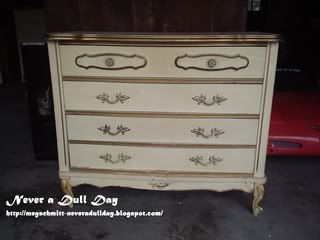 O yea.... it's the basic girls gold and white french provincial and actually it was all mine! I loved being able to re-create my little girl furniture for her! After a light sand, we applied a turquoise glaze and then antiqued to tone down the turquoise. Finished with a spray poly.
So, did you even notice the "flaw" on the tall dresser? Look closely....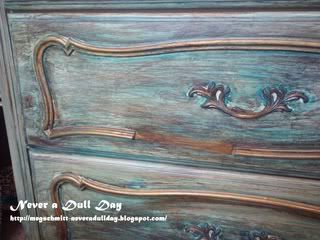 I don't think anyone besides my mom and myself has ever even noticed!
So a small
Design Summary
for anyone who is interested:
Walls are a large horizontal stripe (18" to be exact) of Sherwin Williams Solaria
and white.
CB2 styrofoam flower wall art is "sprinkled" around the room.
Bedding:
Customized
Wendy Bellissimo (it's a long story). I deconstructed the B-R-Us pink, black & white set and added my own yellow ticking and hand sewed on the turquoise satin trim. It was a process. I was full-on nesting like crazy is my only excuse!
Curtain panels: Walmart, I added the black pom pom trim.
Furniture: my vintage french provincial circa 1978 by Bassett
Hanging lamp: vintage 1973 from who knows where! (first thing my parents bought themselves after they were married..... interesting purchase, huh??)
Americana Boy & Girl pictures, Vintage from my great-aunt. I actually slept in her guest room where they hung at her house!
Coat rack, Vintage from my Paw-Paw, I
think
from a Masonic lodge that closed?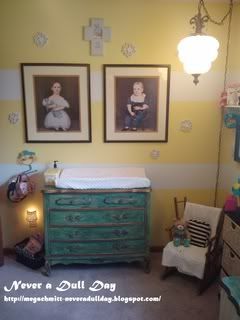 Girls rooms, aren't they just the most fun?!?